I
knew ya well.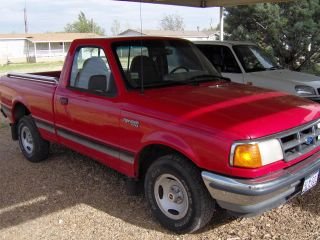 Bob and I had been together for nine years. Nine years of travel. Sometimes we traveled to the mountains. Sometimes across the plains. And sometimes we traveled to the library, across the street from the Christian Science Reading Room.

Bob was getting older. He had asthma, lumbago and a touch of leprosy around the front fender. He was 135,000 miles old. I don't know what that is in dog or people years, but it was time to let him retire. However, instead of letting him move into an assisted driving facility with mechanics on duty, the used car manager at the dealership put him on a block of ice and set him adrift in the sea. The last time I saw him, he was floating off towards the Albuquerque Auto Auction.

Bob had a couple of bumps and bruises. The leprosy on the front fender resulted after I dropped my motorcycle on him. Bob caught the bike and probably saved me a costly repair bill. But he got a couple of dimples and some scratched paint out of the deal.

There was a really interesting cross-hatched pattern that was scratched into the paint right in the middle of the driver's side door. It was about two inches square. The scratches showed up one day after I 'd been at work and the probationers were doing community service at a thrift store next door. Bob was sort of proud of it - like a scar that makes a good barroom conversation starter.

Bob liked to travel the back roads and the dirt roads. He liked to take the "long-cut" from our house to Big Flat City. It took longer, but you could get half-way there before getting on the interstate. If the roads were dry, that is.

Bob has been a good friend and a trusted part of the family. Bob only
broke down and left me stranded
one time in all the years we were together. But, Bob is a two-person truck. That wasn't a big deal when Katie was a little kid and only rode in Bob on rare weekend occasions. But things have changed and none of us is getting any smaller. When the three of us pry our way out of Bob's front seat, we resemble the start of the clown act at Ringling Brothers.

So, we had a long talk and I explained it was time we parted ways. I was more sad than you know. Bob will always have a place under the carport.

But now there's Earl.