This vacant wooded lot in Athens, Texas reeks of adventure. It is dark and mysterious - surrounded by a low rock wall. I don't know much about it, except that it was once owned by the minister of the First Baptist Church.
The trees are beautiful. Especially the dogwoods. The blossoms seem to float in the air.

The only structure in these acres is this enclosure. it sits in the middle of the woods and marks the gravesite of the minister and his wife. It was erected in 1934.

This is the Reverend and his Lovely Bride. She died 10 years before he did. He was a wealthy man, according to local lore, and was no doubt courted by many blue-haired ladies with casseroles.

The Reverend Fuller. He fought the good fight, etc. etc. He died in 1944 and was 25 years the pastor of First Baptist Church.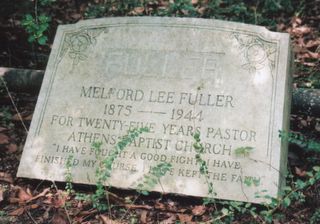 This is Mrs. Fuller. She was the long time (long suffering) organist for the church. Her epitath is "She hath done what she could." Geeze!! How horrible is that?
This bench is constructed from the same stone as the enclosure and the wall. It sits a few feet from the graves. You can sit here and wonder at the greatness of God. Or Reverend Fuller. Whichever.

As I walked past the bench, I saw these keys on the ground. They had obviously been left there only days or hours before.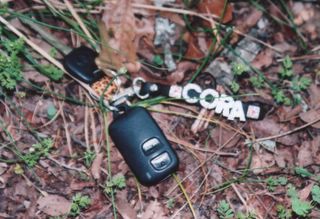 A little further down the path we saw this blanket in a tree. Hmmm....
We went back to the bench and began to scrounge around. Found a comb...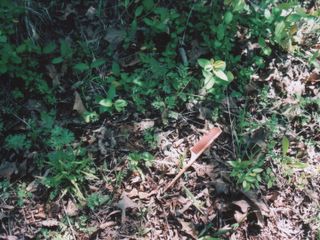 And her lipstick. By this time I was laughing too hard to properly focus the camera.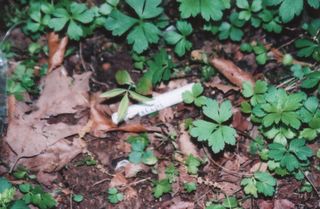 The piece de resistance: A yellow silk and lace thong. It too was lying in the immediate vicinity of the bench.
I couldn't resist. I left Cora's keys on the bench, with a note...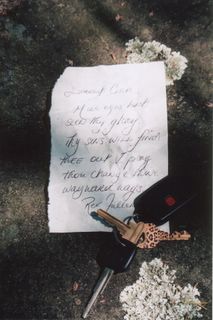 Dearest Cora,
Mine eyes hath seen they glory. Thy sins will find thee out. I pray thou change thine wayward ways.
- Reverend Fuller

Thank you! Thank you! Thank you, Annie Oddflower for showing me how to do this!